Stone decoration plays an important role in it. The overall color matching and control add a strong touch to the warm home. In modern decoration design, people prefer white marble and grey marble.
4 Popular Types of White Marble
The white marble has a warm and moist temperament, the natural texture is exciting, simple and elegant, and it also exudes a small and fresh feeling. It has a remarkable effect on the decorative space temperament and is very popular among young people. We list 4 of the more popular types of white marble here: Calacatta White, Volakas White, Ariston White, Guangxi White.
Calacatta White Marble
Calacatta white marble comes from Italy, the fashion capital, with its own fashion and noble aura. It has always been popular among high-end people and designers because of its elegance and high-end.
Calacatta white marble is very excellent in terms of material, pattern, finish, etc. It is widely used in high-end hotels, high-end villas, and high-end leisure places. God's Palace.
Volakas White Marble
Volakas white marble is like a goddess from ancient times. Dignified, elegant and noble, and quiet. Volakas white is a kind of natural marble milky white with clear stripes, rich texture, noble and elegant natural and unique texture, which can not only reflect the historical retro feel of decorations, but also It fully expresses the modern sense of fashion.
Volakas white marble has good processability, sound insulation, heat insulation and can be further processed and applied. It has high adaptability to fine processing, low hardness, easy to carve, and unique texture. It is an excellent building material and decorative marble material.
Ariston White Marble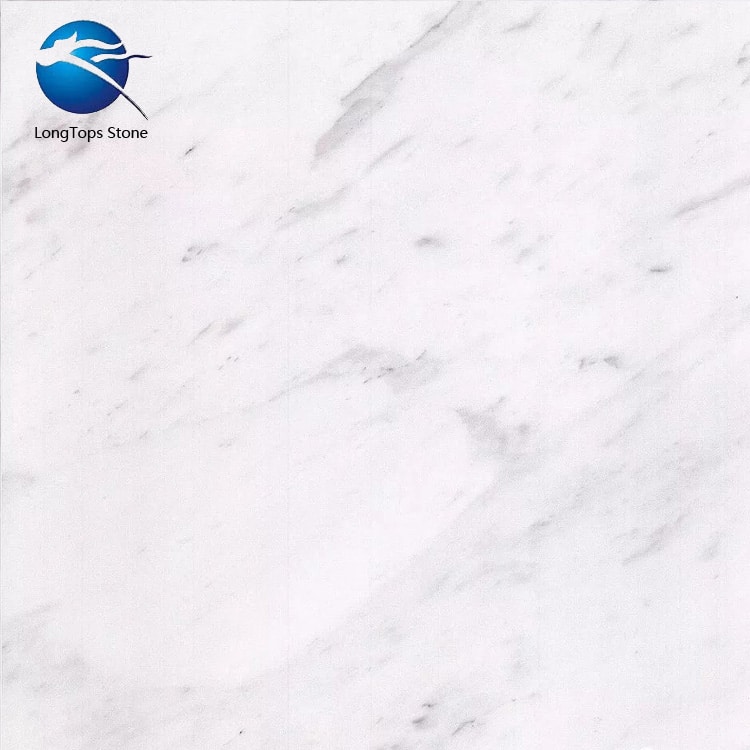 If Volakas white is an elegant goddess, then Ariston white is a personable son. Ariston white marble originated from Greece and belongs to a high-grade marble among the white building materials. Its color is as white as jade, the particles are fine and pure. White is inlaid with very pure gray, the texture is scarce, and the texture is natural and self-contained.
Beautiful and elegant, but soft in texture, it belongs to a kind of delicate stone because high-quality Ariston white marble has the whitest color among all the stones. Ariston white stone only has mines in Greece, and because the amount of mining is limited, so The price of all kinds of stone is generally relatively high. After the high-quality Ariston white is processed, the cost has reached 2,000 square meters or even higher before installation.
Guangxi White Marble
Guangxi white marble is produced in Hezhou City, Guangxi,  Longtops Stone has a controlled mine in Guangxi. Guangxi white has always been the first choice for architectural decoration (such as interior and exterior walls, window sills, lines, floors, etc.) with its snow-white surface, landscape-like texture and low price.
Guangxi white marble slab has a snow-white surface, with yellow or gray rib lines of different thicknesses on the surface.
4 Popular Types of Grey Marble
Gray is an advanced color and the darling of fashion circles. Grey marble has always had a place in modern home decor, and can be used in any style. We list 4 of the more popular types of grey marble here: Ink Grey Marble, Hermas Grey Marble, Italian Grey Marble, Space Grey Marble
Ink Grey Marble
Ink grey marble must be familiar to everyone. The grey base is decorated with flexible white and brown lines. The layers are distinct, rough and not messy. It shows the beauty of atmosphere and fashion, and has a low-key luxury beauty. Minerals are also relatively rich, including European mines, EJT mines, Turkish old mines and so on.
It has a uniform and clear texture, positive background color, high gloss and good oiliness. From large-scale laying to small-area embellishment, from countertops to TV backgrounds, it can give you a different feeling of space and modernity, making space Beautiful.
Hermas Grey Marble
Hermas gray marble can be said to be the most popular gray marble. It has rich texture, intoxicating layered colors, low-key fashion, strong decorative properties, delicate materials, and good luminosity. It is very suitable for indoor floor and wall paving.
The natural network texture of Hermès gray deeply attracts people. The cool color texture is high-end atmosphere, and the clear texture is rich in layers, which is very in line with the aesthetic requirements of modern people.
Italian Grey Marble
Italian gray/Cyprus gray marble, produced in Turkey, has black lines and white roots, and is divided into light, medium-light, and dark colors.
The simple and refined Italian grey marble has both urban color and delicacy, giving the space soul and taste, and is more suitable for the needs of the current nouveau riches for delicacy and individuality!
The texture is natural and soft, the texture is hard and delicate, the gray is like a man's rational and mature courage, and the white symbolizes the romantic dream of a woman. The combination of rationality and sensibility is very harmonious, making the space quiet, elegant and simple, reflecting the beauty of modern simplicity.
Space Grey Marble
It is not monotonous, low-key and unassuming, space grey marble, like a gray stone gentleman, elegant, humble and polite. Delicate and warm texture, release refined character, create a low-key, luxurious texture living space.
At the same time, gray gives people a simple space for thinking and gives people a quiet desire. Space grey marble gives people a sense of meditation. The moody space becomes quiet under the smoothing of gray tones, and becomes more mysterious under the combination of lighting
| Serial Number | Available Quantity | Size |
| --- | --- | --- |
| NO.221018 | Enough | Customizable |